Water, cows and crops - Factoids - 4/26/12
Water and Farming
Although agriculture is not Canada's largest user of water, it is the largest net consumer.In 1991, agriculture withdrew only about 9% compared with thermal power (64%) and manufacturing (14%) but it consumes 71% of the water it diverts, making it by far the greatest consumer.
About 85% of agricultural withdrawals (surface and ground water) are used for irrigation (primarily in the West) and 15% is used for watering livestock
Irrigation

About 75% of all agricultural water withdrawals in Canada take place on the Prairies, mainly for irrigation. Alberta has about 60% of the total irrigated cropland in Canada.
In 2001, 4,424,600 thousand cubic meters (m3) were used to irrigate crops (Table 1). Alberta had the greatest share of irrigation water use with 2,900,000 thousand m3.
British Columbia and Saskatchewan were in second and third position with 845,000 and 500,000 thousand m3 respectively.
The three westernmost provinces constituted 95.9% of total water used for irrigation
Livestock

Overall, the total amount of water used by the livestock operations is relatively small compared to the amount of water used to irrigate crops. For example, total livestock water use represents less than 6% of the total water use in agriculture. However, livestock water use can be important in regions where livestock farming is more concentrated (Alberta).
In 2001, 279,160 thousand m3 of water was used on Canadian livestock and poultry farms . Alberta used the most water for livestock farming: about 30.7% (85.8 million m3) of total water used for livestock farming was used in this province.
Ontario and Quebec followed Alberta with 19.3% and 17.1% respectively of total water used in livestock farming. Saskatchewan was not far behind Quebec with 14.2% of the total water consumed by livestock farms, attributed to its large cattle population. Manitoba followed with 10.2% mainly due to its large hog population.
The average dairy cowproduces 27- 33 kg/day of milk and drinks on average 115 litres of water per day.
Manure Management
Milk cows produce the most manure at 62 kg per day, which is about 10% of the weight of an average cow.
Manure production increased by 16%, or by an estimated 25 million tonnes from 1981 to 2006, largely as a result of increasing number of beef cows on farms. The amount of manure generated by beef cows grew by 44% or 21 million tonnes between 1981 and 2006
These increases in manure production were offset by declines in manure from other livestock types, particularly milking cows which experienced a decline of 44% or 18 million tonnes of manure. Productivity improvements allow each milk cow to produce more milk, allowing farmers to reduce the number of milk cows while retaining milk production levels.
Most livestock farmers handle manure in one of two forms - either as a liquid or as a solid. Liquid manure contains feces and urine and may also contain washwater, spilled water (e.g. from drinkers), precipitation into the storage, spilled feed, and bedding. Normally solid manure contains feces, some or all of the urine, bedding, spilled feed, and little or no additional water.
Most farms store manure for long periods of time and spread the manure onto fields at times when the greatest amounts of nutrients can be used by the crop.
Most farms in Ontario store manure for long periods of time and spread the manure onto fields at times when the greatest amounts of nutrients can be used by the crop.
The greatest potential for water quality impacts is in the following areas:
1. Runoff from solid manure storages
2. Over-application of manure
3. Macropore flow of liquid manure to subsurface tile drainage systems
4. Runoff from fields
5. Accidental spills of liquid manure

The water suplly in Walkerton, Ontario was found to be contaminated with E.coli. The contamination came after a heavy rain storm washed cattle manure into a town well.



Source material: A geographical profile of livestock manure production in Canada, 2006 - http://www.statcan.gc.ca/pub/16-002-x/2008004/article/10751-eng.htm
Walkerton Tragedy
http://www.peelregion.ca/pw/waterstory/pdf/walkerton-tragedy.pdf
Comparison of storage, treatment, utilization, and disposal systems for human and livestock wastes - http://www.ridgetownc.uoguelph.ca/research/documents/fleming_wastes.pdf
A geographical profile of livestock manure production in Canada, 2006 - http://www.statcan.gc.ca/pub/16-002-x/2008004/article/10751-eng.htm
Estimation of Water Use in Canadian Agriculture in 2001 http://publications.gc.ca/collections/collection_2007/statcan/21-601-M/21-601-MIE2007087.pdf


Related Info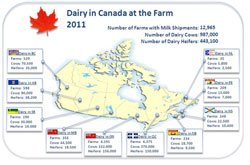 Number of Farms, Dairy Cows and Dairy Heifers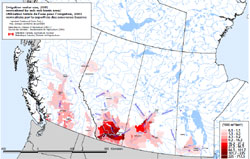 Irrigation Water Use in Western Canada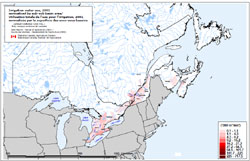 Irrigation Water Use in Eastern Canada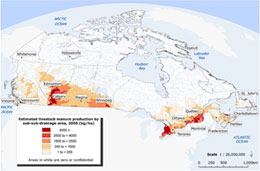 Manure production, by sub-sub-drainage area - 2006