Canada's water rates going up, up, up - Update 2/2/12

Josée Dechêne

According to the Earth Policy Institute, there is a growing recognition of the value of water in industrialized nations. Since 2002, water rates climbed in many parts of the world as the true value of water is beginning to be realized.

Over the five year period ending in 2007, Canada's water rates increased an average of 58%, while other industrialized nations were not far behind. Some of the highest rate increases were; South Africa at 50%, Australia at 45%, the United Kingdom at 32% and the United States at 27%.

In Canada, most municipalities have hiked their water rates over the past years and, while most justify the increased rates on the need to repair crumbling infrastructure and improve sewage facilities, some admit that water conservation and decreased revenue also play a role.

Average rate hikes in 2012 range from 1.2% in Sudbury, to 10 per cent in Iqaluit, and Vancouver.

In Ontario, stricter regulations under the Clean water Act combined with widespread infrastructure needs have been pushing water/wastewater rates up for for several years.

For example,residents in Orangeville will face an 8.2 per cent increase in their water and wastewater rates in 2012, meaning rates have increased almost 25 per cent over the last three years.

In North Bay, an annual 6.1% increase is in line with rate hikes homeowners have been hit with over the past several years. The City of Waterloo has hiked water and sewer rates by almost 7% this year and expects rates to continue escalating through 2021.

The town of Amherstburg raised both the water and wastewater rates a combined 26 percent in June 2011. The average bill – based on 264 cubic meters of consumption – rose to $1,101. Those rates are comparable to Leamington, Essex and Kingsville with Windsor checking in with a combined rate of $1,342.

Finally, in the nation's capital, years of postponing major work on the water and sewer system have come to an end. Ottawa's water rates are set to rise a combined 74 per cent over the next 10 years to meet the needs of aging infrastructure.

Expect no immediate reward for conservation

More and more Canadians are taking measures to conserve water in an effort to spare the environment and in the hope of saving money. While this is a laudable trend, the reality is that it means reduced revenue for municipalities, often leading to further rate hikes.

In the Madawaska Valley Township for instance, users fees were set up based on projections of water use, but in recent years usage is actually in decline, due to conservation and wet summers.

In 2006, water usage was 153,339 cubic metres; by 2008 that number dropped to 130,388 cubic metres, well below the estimated 144,055 cubic metres for that year. And this declining trend is expected to continue in future years.

Evaluating water usage is also a challenge. While some cities, such as Ottawa, say they closely monitor water usage and adjust treatment accordingly, others admit it is difficult to predict water consumption. According to an article published in the Sudbury Star in December, water consumption in the city has declined markedly since 2002, but not always at fixed or predictable rates. The city's financial officer Lorella Hayes says, "It's possible to discern trends in usage and how price variations impact usage...but the city hasn't had the staff time to analyze it as they would like".

Water meters is one of the means expected to solve this issue. But installing them involves considerable cost and often leads to consumer opposition.

So for the time being, if you conserve water, don't expect immediate rewards do it for the sake of the planet.
---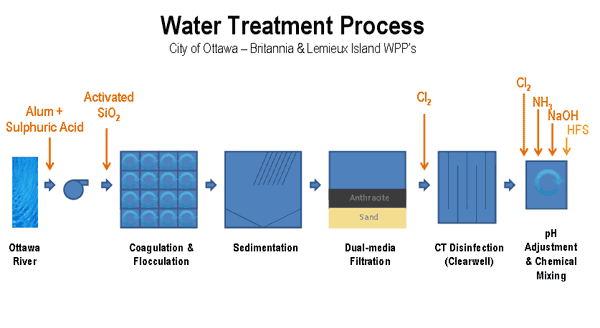 ---
Sources:
- Files from/interview with Penny Wilson
(penny.wilson@ottawa.ca)

- Water treatment
(http://www.science.uwaterloo.ca/~cchieh/cact/applychem/watertreatment.html)

- CT made simple
(https://awwoa.ab.ca/home/pdfs/CTMadeSimple.pdf)

- Water conservation
(http://www.ottawa.ca/env_water/water_sewer/water_wells/conservation/index_en.html)