Research Emails

2018/6/19

HIGH SCHOOL STUDENT FROM FORT QU'APPELLE, SK
This story is brought to you in part by




A high school student in Fort Qu'Appelle, SK wants to know (1) how we gather information for our maps, (2)how many advisories are issued/lifted on average per year, (3) how may people are diagnosed with water-borne illnesses per year.

1. Information Sources
Information is acquired through actively conducting online searches for advisories and related water quality information. We are also registered with a large number of municipalities, who provide email alerts, as well as with regional and provincial governments who maintain and update their own advisory lists. Some provincial lists are updated daily, such as in your home province, while others, such as Nova Scotia, are updated once/weekly. Public health units also list advisories. We also receive advisory news via Google alerts.

2. Water Advisories
The list below contains both active and lifted advisories for each province and territory over a two-year period (2016 and 2017). You will see that your home province does indeed have far more issued advisories than any other, however bear in mind that most are preventive only, issued in order to err on the side of caution. Saskatchewan also publishes all advisories in small water systems, such as camping grounds, restaurants, daycares, etc. Not all provinces do this.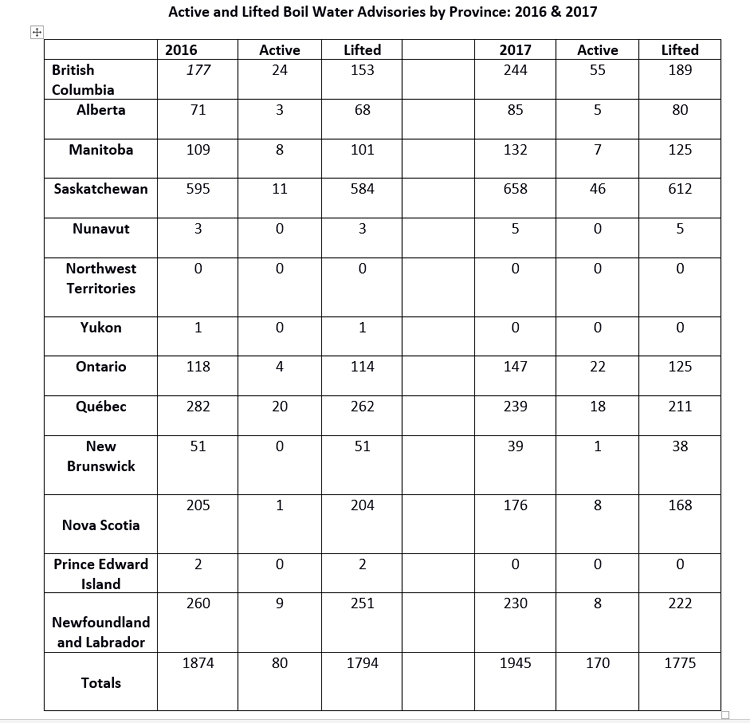 3. Water-borne Illnesses
According to the Government of Canada's Chief Public Health Officer's Report (2013), in recent years, well known cases of water-borne outbreaks include:

The presence of pathogenic Escherichia coli and Campylobacter in the community water supply of Walkerton (Ontario) in 2000 which claimed seven lives and left almost one-half the town's population ill.

In 2001, the community water supply in North Battleford (Saskatchewan) was contaminated with Cryptosporidium, causing between 5,800 and 7,100 people to become ill.

While there were no reported illnesses, residents of the Kashechewan reserve in Northern Ontario were evacuated when Escherichia coli contaminated all of the water supply in 2005.

Ensuring the safety of water in Canada involves many partners. Monitoring of drinking water quality, while typically done at the municipal level, may also be conducted at the provincial/territorial level. However, water-borne disease surveillance is currently not standardized or consistently linked, making it difficult to understand the scope of water-borne illnesses.

Detecting water-borne illnesses includes patients identifying their illness and phone inquiries as well as reports by local public health authorities, physicians and laboratories. Outbreaks associated with small drinking water systems are also identified through monitoring of water quality, epidemiological investigations, laboratory confirmation or a combination of these methods. Outbreaks are not always reported beyond the local authorities.

the following link (National Collaborating Centres for Public Health: Small Drinking Water Systems Project), offers a significant amount of information regarding past waterborne illness outbreaks, some of which are categorized as "definite", others "probable" while still others, "possible".
http://www.ncceh.ca/sites/default/files/SDWS_Water-borne_EN.pdf




HAVE A QUESTION?
Ask research@watertoday.ca











Related info



A to Z

Advisory Maps

For articles published before 2017, please email or call us


Have a question? Give us a call 613-501-0175

All rights reserved 2017 - WATERTODAY - This material may not be reproduced in whole or in part and may not be distributed,
publicly performed, proxy cached or otherwise used, except with express permission.