Features

Update 2018/3/28
Exploration


CAVE DIVER AND RCGS EXPLORER-IN-RESIDENCE, JILL HEINERTH, ON HER CAREER AND OUR RELATIONSHIP WITH WATER

This story is brought to you by




By Cori Marshall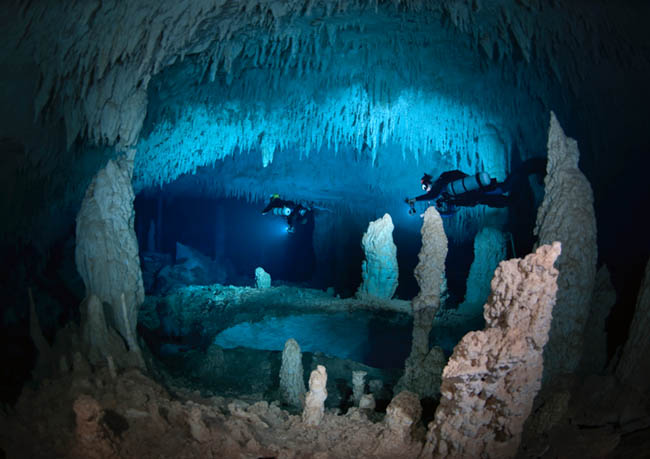 Coinciding with World Water Day on March 22, 2018, the Google Earth Voyager story Dive Into the Planet with Jill Heinerth was launched. This interactive experience tells the story of her underwater expeditions and work surrounding water conservation.

Beyond her credentials as a modern explorer, Heinerth is a writer and filmmaker, and these talents have produced stunning imagery of her expeditions. Her abilities have led her to work with directors such as James Cameron.

In 2013 Heinerth received the Sir Christopher Ondaatje Medal for Exploration, the first year it was awarded. This medal is awarded for "achievements in geographical exploration" and "recognizes outstanding Canadian explorers for extraordinary achievement through expeditions in Canada or abroad."

Three years later, in 2016, Heinerth became the Explorer-in-Residence of the Royal Canadian Geographical Society (RCGS). There is even a collectors card that lists the highlights of her career.

WaterToday had the chance to speak with Jill Heinerth about her work and being an Explorer-in-Residence.

Heinerth explained that "National Geographic started a long tradition of Explorers-in-Residence, and were people doing key work around the world." In 2016 "the RCGS asked if I would serve as the first, [and] volunteer to stand in for the appointment."

Heinerth was excited at the prospect and when asked what she "would like to do with the title," she said her goal was to "get out to the school system in Canada and reach out to kids and talk to them about exploration, discovery, and the importance of geography in their lives."

"The response [from the kids] has been amazing," Heinerth said.

This is the second year that the explorer has had the opportunity to do this type of outreach. "You can show movies, give [kids] things to read, there is nothing quite like having a real person in the classroom talking to them about things that are relevant to their lives today, and their future careers as well." She added that children today are "looking ahead at a very different world than we grew up in."

As a child, Heinerth drew her inspiration from the world around her and the explorations of the time. She watched the Apollo missions and Jacques Cousteau on television, "and that moved me to want to do something remarkable in exploration."

Heinerth held onto her dream, she related that "as I was growing up there were people who told me that the world has already been explored, we've been to the highest peaks, the bottom of the ocean, and now we've been on the moon." This might have detracted others, but Heinerth's determination has led to places on our planet that no one has laid eyes on."

Heinerth has been to "the inside of our planet," and she frequently tells people that she "swims through the veins of mother earth."

"The opportunity is what continues to inspire me," she said, "the importance of understanding our water resource is what continues to drive me forward."

Heinerth has travelled the world and has seen the issues repeated. "To begin with, people don't seem to understand where their water comes from, and they have grown up in an era where people take water for granted," she said, "you turn the tap on, and something clean and drinkable comes out of the tap."

Heinerth pointed out that "not many people connect where that [water] actually comes from." She underlined that "drinking water issues are the big challenge of the next century and the next generation." The reality is that "we are not running out of water, we are running out of water that is clear, fresh drinking water that is affordable for people, and that's what we are really trying to protect."


"In my opinion, clean water must be a basic human right, it's the one thing we all need to survive. If we don't deliver fresh drinking water to everyone on this planet, people will do almost anything to get access to what keeps them alive. If we don't deliver that drinking water resource, we are going to be living in a world of conflict."

Jill Heinerth, Explorer-in-Residence, Royal Canadian Geographical Society


Heinerth does much of her work in Floridian Aquifer, which she qualified as "an incredibly abundant resource." She added that the local residents are "some of the highest water users on the planet." She speculated that the high rate of water use "is because of that perceived abundance."

In contrast, she spoke about travel in other parts of the world like Australia, "where they have urgent water issues." She said she saw "a completely different method, [to water conservation], people are literally protecting every drop standing in a shower with a bucket so they can collect what rolls off their body and reuse it to water the garden." "In different parts of the world people have had to face different, urgent crises, people have adapted to rise to the occasion," Heinerth said.

Heinerth has been a proponent of "ending our love affair with the green golf course style lawn, with fertilizers and pesticides that go straight into the drinking water." In the United States she has been told "that is an impossible habit to break."

She pointed to the City of Toronto as an example of breaking that lush green lawn addiction. The Queen City "has let the public spaces go wild, they mow less and they don't use fertilizer and pesticides on the landscaping anymore."

There are alternative approaches and "globally we need to provide people with that sort of education, so they do connect with where their water comes from, and think about what they do on the land because it will be returned to them to drink."

There are perceptions of the ocean and then there is the reality. Heinerth said that "we are still learning so much about the ocean, today beside acidification we have to think about microplastics, [the ocean] is changing very fast and we are kind of running out of time to become better stewards of our planet."

The explorer said in a very sobering tone, "the decisions that we make in the next decade are going to affect the future of humanity, it is that important."

When asked about the best approach to addressing water change issues Heinerth responded "everything has to come from the ground up." She added that "when it comes to water issues a lot of it is educational shortfalls."

"People don't want to pollute the very water that they drink they just don't know necessarily how they are overusing water," she said, "given more information about how important it is and how it is happening will help people make changes in their lives."

Jill Heinerth has literally been to some of the final frontiers that Earth has to offer. She has seen with her own eyes what many will only see through her images, she has been "where no one has gone before." Despite the global water challenges that face humanity she is inspirational in her belief that "even small changes can make a big difference."

cori.m@watertoday.ca