Feature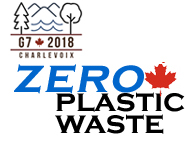 Update 2018/6/8
G7 Charlevoix Summit 2018

G7: DISCUSSIONS ON COASTAL HEALTH AND PLASTICS CHARTER MADE DIFFICULT IN CURRENT POLITICAL CLIMATE
This story is brought to you in part by





By Cori Marshall


The 2018 Group of Seven or G7 Summit opens today, Friday June 8, in Charlevoix, Quebec. The Canadian Presidency revolves around five key themes; Investing in Growth that works for everyone, Advancing gender equality and women's empowerment, Building a more peaceful and secure world, Preparing for jobs of the future, and Working together on climate change oceans and clean energy.

The morning of the 8th will be filled with the arrival of the remaining leaders the seven largest economies in the world, and bilateral meetings. The last leader to arrive will be the President of the United States Donald Trump.

In a bilateral meeting with Prime Minister Justin Trudeau this morning, Japanese Prime Minister Shinzo Abe said "he was looking forward to having a very productive discussion."

After the morning activities the leaders will enter a working lunch where the subject of American tariffs may come up.

The opening day of the summit coincides with World Oceans Day and ties in with the final theme of this year's meeting. Prime Minister Justin Trudeau released a statement earlier this morning stating "oceans have a profound impact on our way of life. They are vast sources of food and energy, home to unique habitats and abundant marine life, and the site of historical moments that continue to shape the world."

The Prime Minister tied the importance of oceans to Canada history as well as its future saying that they are "inseparable from its oceans, coasts and seas."


"All of us have a stake in keeping our oceans, coasts, and seas clean, healthy, and resilient. Today, and every day, let's do our part to protect these great bodies of water and idyllic coasts for generations to come."
Prime Minister Justin Trudeau.


There will be a coastal community meeting held on June 9, which is part of a special outreach session. This session will allow delegations and leaders from non-member states to speak directly to the leaders of the G7 on this extremely important topic.

Large international summits like the G7 end with a unifying statement or agreement. Ahead of the Summit, Canada had made its intentions known that it will push for a plastics charter that will protect our oceans. A hindrance to the discussions will be the climate that has been created by the imposition of American tariffs on goods like steel and aluminum coming from Canada and Europe.

Prior to leaving Washington D.C. for Charlevoix President Trump made a statement calling for Russia to be readmitted to the group. It will be challenging for the leaders to reach agreement on a very important plastics charter amidst the international political climate. The G7 Summit wraps up tomorrow afternoon, June 9.

Stay with WaterToday as we bring you more from G7 2018.

cori.m@watertoday.ca