Feature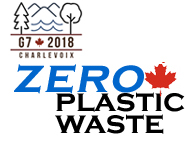 Update 2018/6/12
G7 Charlevoix Summit 2018

G7: OCEANS BLUEPRINT AND PLASTICS CHARTER NEED DOMESTIC POLICY AND REGULATION
This story is brought to you in part by





By Cori Marshall


For two days there was intense focus on Charlevoix and Quebec City for the G7 Summit. Meetings under Canada's Presidency were taking place prior to June 8th and 9th, and will be taking place until the end of this year when the Presidency shifts to France. The leaders have all returned to their respective countries and the post-summit dust is beginning to settle.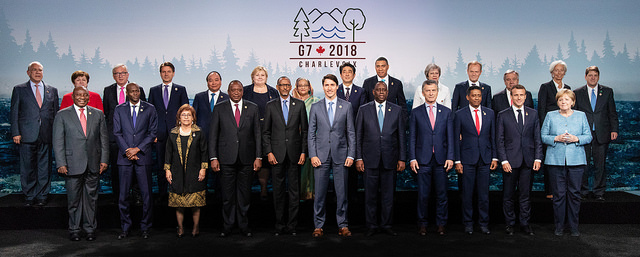 Offical G7 Summit photo



In the rapidly changing political atmosphere following the Summit it has been widely reported that now only six G7 member states endorse the Charlevoix G7 Summit Communique. The fact that the American President revoked his endorsement of the document does not effect what the other six members and the European Union (EU) agreed to under the theme of Working Together on Climate Change, Oceans and Clean Energy.


"Canada, France, Germany, Italy, Japan, the United Kingdom and the European Union, reaffirm their strong commitment to implement the Paris Agreement through ambitious climate action."

The partners will fight climate change "through collaborative partnerships", inclusive of all levels government, Indigenous communities, and private sector.

A major component to this theme is healthy oceans. The Summit, recognizing the importance of healthy oceans and seas to billions of people and states around the world, invited twelve outreach countries as well as the IMF, World Bank, and OECD "to discuss concrete actions to protect marine environments." The official Summit communique states that G7 leaders endorsed "the Charlevoix Blueprint for Healthy Oceans, Seas, and Resilient Coastal Communities."

The Blueprint outlines how the G7 members and outreach nations will approach the major points. In order to build resilient coasts and coastal communities they will "support better adaptation planning, emergency preparedness and recovery."

Those who were party to the outreach session also agreed to "increase the availabilty and sharing of science data," in order to increase knowledge surrounding ocean environments. They will aslo "address IUU, [illegal, unreported, unregulated], fishing and other drivers of overexploitation of fish stocks," as well as "support strategies to effectively protect and manage vulnerable areas of our oceans and resources."

Leading up to the summit it was publicized that Canada would be pushing for a Plastics Charter to manage plastic waste and ocean litter. Five countries Canada, France, Germany, Italy, and the United Kingdom along with the EU endorse the G7 Oceans Plastic Charter.

As we have seen there is micro-plastic particles in drinking and bottled water, and plastic continents in the ocean. Plastic waste is of extreme concern.

The Charter, that is annexed to the Blueprint states that G7 countries will "commit to move toward a more resource-efficient and sustainable approach to the management of plastics." They "will take a life cycle approach."

What this translates into is investing in the entire lifespan of plastic from design, to recovery and re-use. Working alongside industry, the G7 will work to toward "100% reusable, recyclable, or, where viable alternatives do not exist, recoverable plastic by 2030."

Both the Blueprint and Charter are filled with positive, inspiring language. Where the rubber meets the road is when the leaders return home and begin to implement what they have committed to. The documents themselves lack teeth, and ultimately in order reach the goals outlined in them, they will have to be backed with domestic policies and regulations.



cori.m@watertoday.ca