Feature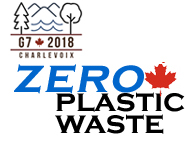 The G7 is composed of Canada, the United Kingdom, Italy, France, Germany, the United States and Japan. A representative of the European Union is also invited to the summit, as are other dignitaries from around the world.

WT senior correspondent, Cori Marshall, will be attending the G7 Summit in Charlevoix on June 8 and 9. With the help of our team of journalists, his main objective will be to meet with dignitaries from the seven attending nations and report on their priorities and measures to combat climate change and save our planet's water.

Update 2018/6/5
G7 Charlevoix Summit 2018

WATERTODAY AT THE G7 SUMMIT


Saving the world's oceans and ridding them of plastic debris is central to Canada's G7 Presidency.

This is an international issue, G7 members are the largest industrial-economic nations of the planet, and how they approach this problem is critical, and an essential part of a global dialogue that needs to be had.

The oceans are only the endpoint for the plastic debris, and waste plastic begins that journey in domestic waterways around the world.

"We are looking at a zero-plastics-waste charter," Environment Minister Catherine McKenna said Wednesday at an international conference on the world's oceans, from Cancun, Mexico. The idea of a plastics charter was first raised by Prime Minister Justin Trudeau earlier this year.

Further, as more and more people live with water stress and water scarcity, it is imperative that the people hear from nations, like those who are part of the G7, about how they are regulating and protecting their freshwater and drinking water.

How G7 member states go about addressing this is, first and foremost, through their domestic policies regarding their freshwater bodies and drinking water sources. It is in the combination of domestic policies of nations working in concert that will turn the tide on these issues.

We believe that our readers want and need to know how some of the most important industrial and economic powers regulate their water and what their positions are when dealing with other nations on these matters.