Waterlines



brought to you in part by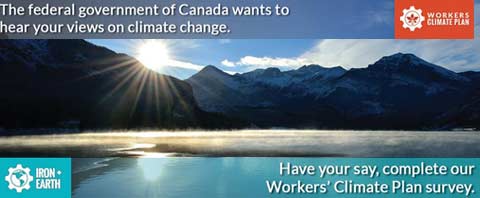 2016/9/20
Renewable Energy

THE GREEN & THE BLACK
CONVERTING ALBERTA'S ABANDONED WELLS INTO GEOTHERMAL GREENHOUSES

The Leduc #1 Energy Discovery Centre in Devon, Alberta, is a proud tribute to the heritage oil well which turned the province into a continental energy powerhouse 70 years ago . Today, in a sign of the times, it is converting another disused oil well into a geothermal system - a first in Canada. Leduc #1 is central to the Living Energy Project, an initiative that is creating the world's first carbon neutral oil museum. In a sign of the economic times, the renewable energy systems that power the geothermal pump are built by local oil service firms - The Green & The Black - which only a couple of years ago during the oil boom would have been too over-stretched to do it.

The system is simple: Disused oil wells naturally fill up with hot water from the rocks. So all that is needed is a pipeline loop, pump and heat exchanger—the system pumps heat into a building or greenhouse and returns cold water to the well.

Jason Edwards, CEO of Sundial Energy, which is building the geothermal system, says, "I've worked in the oil patch all my life, as a rig worker and welder. I've had to close my welding and H2S stripping division in the recession. It's incredibly satisfying to be able to rehire guys for the Leduc #1 project."

Mitchell Pomphrey, CEO of Pomphrey Industries, the firm that designed many of the project's renewable systems for Alberta's harsh climate, says. "Alberta has nearly 230,000 disused oil wells. Converting them to geothermal energy cuts down methane leakage, produces free energy and gets oil service firms back to work—it won't cost taxpayers a cent. It's win-win-win for the industry, taxpayers and the environment."

In October, eight oil service firms will start preparing the well for conversion. Understanding the project's importance to their industry, they are donating their work. Converting a mere 5% of the disused wells to geothermal heating or micro power systems would put hundreds of such companies back to work.

The project's integrated systems include North America's largest solar tracker—which follows the sun from east to west, rises as it arches, and tilts to dump snow off it—and a wind turbine atop a derrick symbolizing the two industries complementing not competing.

The Living Energy Centre features a range of displays including a viewing platform where visitors enter the virtual, real-time energy production of geo, solar, wind and gas, which they interact with using all senses and command through a touch display and voice control—telling the living energy system to store power, give more heat, or turn off lights. Marg McCuaig-Boyd, Alberta's energy minister says, "Albertans are known worldwide for our ingenuity and can-do spirit. We see opportunity where others don't. The Living Energy Project at the Leduc #1 Energy Discovery Centre is an excellent example of how Albertans are working to create a healthier future for our province."

Shannon Phillips, the province's environment minister agrees, "Leduc #1 Energy Discovery Centre's effort is a demonstration of how Alberta is building on our traditional strengths in energy development to take real steps to reduce emissions and create new opportunities in an increasingly diverse energy future."

The pilot will also allow greater energy self-sufficiency for northern Aboriginal peoples, who truck expensive diesel in across ice roads. Many reserves have such wells, which could be converted to geothermal greenhouse systems to grow fresh winter vegetables. Clean energy fits perfectly into their land stewardship.

One estimate shows converting 5% of the disused wells to geothermal heating systems for greenhouses would boost the province's area under glass by 440% - slashing California imports. When combined with LED solar-powered lighting, it could create all-year growing in Canada's sunniest province, creating up to 5,000 permanent, year-round farming jobs—The Green & The Black—and North America's biggest oil well to geothermal conversion program.

The project addresses the crisis of disused oil wells as more firms go bust leaving the province holding the bag for their environmental liability. Furthermore, as low oil prices force smaller firms to stop production, the regulator may force them to decommission their dormant wells at a cost of $100,000 to $300,000 a pop. This has driven up to 230 small oil firms to the edge of bankruptcy, according to the Land Integrity Foundation, an NGO that helps small producers. Converting them to a geothermal system would avoid this cost by simply changing their use and freeing up the decommissioning money for investment in geothermal systems.

The project is working with the government on changing the regulations to allow this. Shaye Anderson, the local MLA and the project's spokesperson says, "We're in talks with the government about forming a partnership in the project—to become a regulatory, technical and commercial pilot to provide data and find glitches and their solutions that will help it develop policies." Anderson's riding is rural and also home to one of North America's biggest oil service industry parks, which is suffering in the oil slump. The project helps with Alberta's economic diversification, and being located 10 minutes from Edmonton airport, fits into its Airtropolis plan - creating an international hub for tourism, energy and trade.

In addition to low prices another challenge looms over the oil industry—in 2018, methane leakage regulations take effect. Geothermal systems become a pair of eyes monitoring abandoned wells 24/7—any methane venting triggers a sudden pressure change in the system. It would improve the current regulations' mandated inspection of abandoned wells once every five years.

The Project is Canada's first total hybrid hydrocarbon-renewables system. Using six sources: wind, earth, sun, water; gas via a cogeneration unit on windless nights, and an oil well.

At its heart beats an ultra-smart energy operations platform. It features gas-fueled combined heat and power technology, whose efficiency is 90%, compared to the best conventional gas power plants' 60% and coal's 40%. The platform calls out to the well's pump telling it to speed up or slow down as it anticipates the building's heat needs and power peaks—Canada's first smart geo-system.

From Germany's Kaco New Energy comes the first deployment in Canada of leading, hybrid, inverter technology. It dramatically boosts efficiency, reliability and slashes system costs for integrated solar power and energy storage. Fast-tracked through a special evaluation process, the hybrid inverters will launch at the project. The Green & The Black—Alberta's new game-changing energy discovery at the same site in a new century.