Features

Update 2018/7/8
Pipelines


PICTOU, NS: HUNDREDS GATHER FOR LAND AND SEA RALLY AGAINST NORTHERN PULP'S EFFLUENT PIPELINE

This story is brought to you by




by Michelle Moore

In a historic interprovincial demonstration on both land and sea, hundreds of people gathered in Pictou Nova Scotia to voice their opposition to Northern Pulp's plan to build a new effluent pipeline in Northumberland Strait.

For over fifty years Northern Pulp has been pumping treated effluent from the pulp and paper mill into Boat Harbour Lagoon, but the province has ordered that the facility be shut by the end of January 2020.

A cleanup operation of what is currently the largest contamination site in the province will begin after it is shutdown. The 140-hectare lagoon is said to contain zinc, cadmium, mercury and organic toxins.

The estimated 133 million dollar cleanup will involve draining the coves and basins, dredging the sediment and removing the contaminated soil.

Once complete, the dam that separated it from the Strait would be removed allowing it to fill with water and return it as a tidal estuary at which point it would be turned over to the Pictou Landing First Nation.

The proposed replacement effluent pipeline would go from a new effluent treatment facility at Abercrombie Point into the Strait and would pump as much as 70 million litres of treated effluent a day into the Northumberland Strait.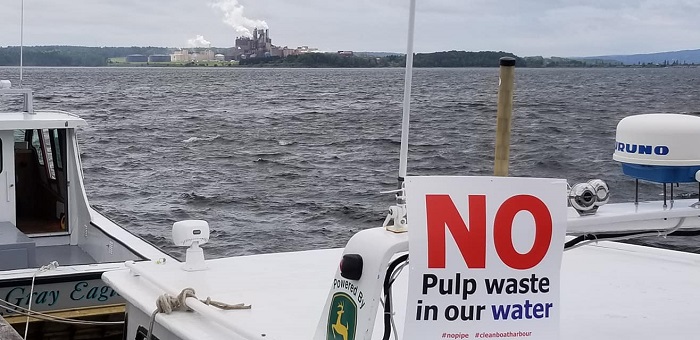 Photo: Michelle Moore



The exact location is yet to be determined as certain obstacles have been found at the location Northern Pulp had previously chosen. The presence of a shipwreck from 2015, a collapsed pier and a shoal has forced them to modify the route.

The demonstration was organized by Friends of the Northumberland Strait and the Northumberland Fishermen's Association. Some of the supporters were Pictou Landing First Nation, the Maritime Fishermen's Union, the Ecology Action Centre, and the David Suzuki Foundation.

Protestors came from all around Nova Scotia, New Brunswick, and Prince Edward Island by foot, bicycle, car and boat with the goal of protecting the Northumberland Strait that flows between the three provinces and into the Atlantic Ocean.

Friends of the Northumberland Strait estimate that as many as 2000 people on land and 1500 by sea arrived in Pictou Harbour in this land and sea rally. Organizers are calling it the largest protest in Nova Scotia history.

At noon a crowd gathered on the harbour to be met later by another group that was marching down the street from the exhibition centre. As they walked down the street they could be heard chanting "No Pipe, No Way!"

Jill Graham-Scanlan, president of Friends of the Northumberland Strait told Water Today "not only will there be chlorinated products in the effluent but there will be other toxins, heavy metals which are part of the natural process but toxic nonetheless, and other substances that are nasty and of concern."

Graham-Scanlan continued, "it's really important for everyone to be united to show the province, the federal government and Northern Pulp that many of us are against the planned proposal to put the effluent pipe into Northumberland Strait. We need to show them the community at large will not stand for it."

At 1pm the gathering was joined by a flurry of boats; some were fishing boats, others kayaks and canoes. After a warm welcome from those on land to their sea-faring friends, several representatives from environmental groups, fishermen's groups, and Indigenous and local government spoke to the crowd.

Chief of Pictou Landing First Nation Andrea Paul said, "we have been fighting Boat Harbour, the battle with Northern Pulp, the battle with the province for many years. For many, many years we have been putting ourselves out there. Today I need to acknowledge all of my leaders in the past and present who have guided us through all of this."

She continued, "I know that we haven't been alone and I know that many people have been working tirelessly for years to raise this to the forefront and for that I lift you up."

Next Ronnie Heighton, president of the Northumberland Fishermen's Union spoke. He said "we are strong, we are united and we are stubborn. I'll tell you a few more things about fishermen, we don't like to be bullied, we don't like to be lied to and don't like to be treated like our knowledge doesn't matter."

He said, "they didn't do their homework on a simple thing like the route of the pipe so what's the chance they've done their homework on other things."

Kathy Cloutier Communications Director of Paper Excellence, the company that owns Northern Pulp explained to this reporter that "additional testing is necessary to find the optimum route using sonar, habitat assessment and core sampling."

She said, "while a later filing may mean significant increase in costs related to winter construction, Northern Pulp/Paper Excellence's commitment to the community and environment will not be compromised."

Changing the route has postponed the project registration filing and critics have questioned whether Northern Pulp will meet the 2020 deadline put forth by the province. The company expects to file later this summer.

Cloutier said "effluent has been flowing into the Northumberland Strait for 50 years now with the current outfall not far from the proposed outfall. In fact, effluent quality of the new facility will be improved even above today's effluent quality."

At a provincial level, a thirty-day class 1 environmental assessment will take place once Northern Pulp has submitted its plans for the new treatment facility and associated effluent pipeline.

Friends of the Northumberland Strait and those who spoke at the rally are asking for the federal government to step in and conduct a more extensive assessment.

m.moore@watertoday.ca